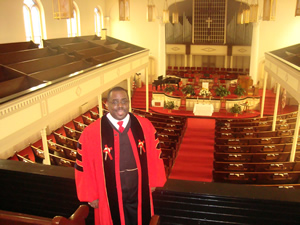 Beloved, I greet you in the wonderful and matchless name of our Lord and Savior, Jesus Christ. We are thankful that God has allowed you to enter into our community of faith. We greet you with open hearts.
Gillfield Baptist Church has a passion for the possible. We believe strongly in the transforming power of Jesus Christ. To that end, we strive diligently to be instruments and resources for the spread of the Gospel of Jesus Christ. We value the gift of a healthy Church environment and we seek to fulfill God's command as we proclaim and teach, pray and worship, forgive and reconcile. We strive to be effective witnesses by following Christ's example. We humbly accept God's call to be servants; this is how we experience the true meaning of joy.
Several things have changed since the birth of Gillfield Baptist Church in 1797. Although changes have taken place, some central core values still remain the same. The one thing that is first and foremost at Gillfield Baptist Church is the reality of God, the Lordship of Jesus Christ and the abiding presence of The Holy Spirit.
If you don't have a Church home, we invite you to consider Gillfield Baptist Church. It is our desire to bring all who we encounter into a saving relationship with God through Jesus Christ. God loves you, and so do we.
We welcome your presence, and encourage you to worship with us at any time your schedule permits.
As Moses said to Hobab, "…Come thou with us, and we will do you good…" (Numbers 10:29)